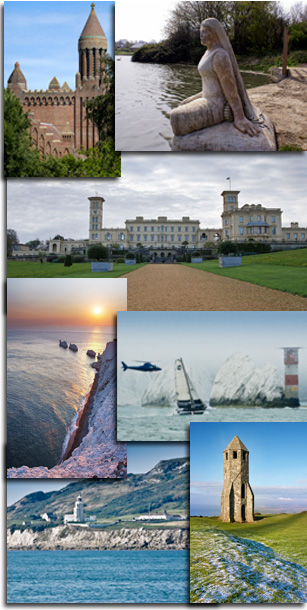 We were very pleased to be contacted by Jackie Parry the author of "Isle of Wight Landmark Visitors Guide" earlier this year with a request for new images for the guide's latest edition. We set the IWDIG photographers the task of submitting images to meet their brief and made available 60 images for selection in the portfolio: view here
The response from both the author and publishers was very complimentary regarding the quality of the images submitted and they were pleased to be able to select 7 images (pictured) for this new edition to be published early in the New Year.
Congratulations are due to the following IWDIG photographers:
 Amanda Johnson for 'Quarr Abbey' and 'Osborne House'
Lorraine Skipper for 'Round the Island Race'
Colin Trigg for 'Newport Mermaid'
Michael Thomas 'St Catherines from the Waverley'
Neil Hunt for 'St Catherine's Oratory' and 'The Needles' 
The photographers will be credited for their images in the new guide and thanks to their efforts the IWDIG received a donation to boost its funds. We hope to follow-up on more publishing opportunities in 2009 and promote both our photographers and the IWDIG where possible.
All images copyright 2008 © the Photographer and may not be reproduced without permission