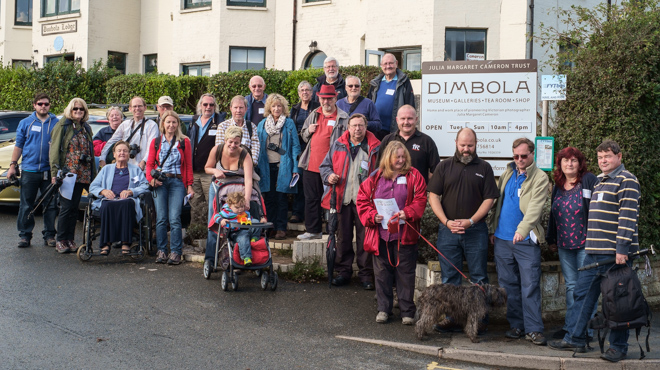 With the  stormy weather during the preceding week and the torrential rain showers earlier in the morning it was amazing to see the clouds clear, blue sky and sunshine timed exactly to the start of the IWDIG 2014 Worldwide Photo Walk.
It was sad that a few walkers had been put off by the weather but there was an enthusiastic turnout including walkers with buggies, wheelchairs and pets. We were extremely grateful to Simon (Elinchrom) and Nathan (Fujifilm) for taking time out from their busy schedules to join us on the walk and spend all of the afternoon demonstrating the equipment and answering everyone's questions.
The walk became especially poignant for Nathan, from Fujifilm, as can be seen in the photograph opposite.  As we reached Farringford House, the former home of Alfred, Lord Tennyson who became the Poet Laureate in 1850,  Nathan finally was able to recognise his ancestry.
Quite a few of the walkers witnessed this epiphany and commented that the resemblance was truly remarkable. Nathan commented that from now on no one will be able to question my true heritage,  and that he always knew that somewhere inside there was a poet just waiting to get out!
The walk, or better described as a photographic amble,  took everyone around Freshwater and the Bay Area and lasted about 2 hours, with a few of the walkers taking even longer. There were no complaints about the wet, the cold or the wind, however a few remarks on  just how hot it was getting, in the wet weather gear, were noted from time to time.
Everyone enjoyed the walk and meeting the other photographers. Walkers were trying out Fuji lenses and camera bodies en route and when finally returning to Dimbola enjoyed the refreshments in the tea room.
The Elinchrom Lighting systems were now available for everyone to try out in Dimbola's studio and many of the walkers took the opportunity to find out all the information they could from both Simon and Nathan. All  the X-series bodies were available along with the complete range of Fujifilm lenses including a prototype of the new 56mm APD.
'Kids in a candy store' came to mind and once again a very big thank you to Simon and Nathan, who were there for the whole day I might add, for making the day such a great success.  Thanks also to all the walkers too, we are looking forward to seeing your images and good luck in the Worldwide Photo Walk competition…