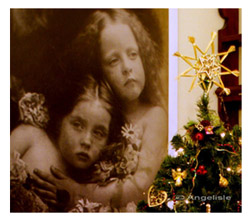 Tis the season to be jolly and where better for our members to get in the spirit than at the annual Isle of Wight Digital Imaging Group Christmas soiree at Dimbola.
A special thanks to Amanda for all of her hard work in putting together the superb Christmas Dinner as always, nobody went home hungry we're sure!
Interested photographers of all abilities are invited to welcome in the New Year with us when we resume sessions on 6th January 2016.
IWDIG Review 2015 and Christmas Soiree photo card below….
Christmas already and as always it's been a mixed year of ups and downs.  Once again 2 things happened:
Peter submitted a task where all of the photos met the brief
Colin managed to stay awake this year for a whole evening
The IWDIG concentrates on members' photographic work through tasks, tutorials and training sessions throughout the year. This year saw the group undertake 28 tasks 2 up on the previous year, including:
| | | | |
| --- | --- | --- | --- |
| High ISO | High ISO | High ISO | High ISO |
| Still Life | Macro/Close-up | DNG Edit | Virtual Copies |
| BBQ | Abstact | Odd Numbers | 2 Panels |
| Summer Evening | People | Manual | One Main Colour |
| Laycock Abbey | Chalk Pit Nature | 35mm B&W | Framing |
| Elements | HDR | WWPW | White on White |
| Bokeh | Speedlights | Gatcombe Manor | Urban |
There have been 7 x shoot & view evenings, including the Nature Walk (Chalk Pit) arranged by Colin, enjoyed by a good few of the group's members. Thanks Colin I know it's appreciated.
Based around Freshwater Bay to coincide with the Julia Margaret Cameron's Bicentenary this years' Worldwide Photo Walk attracted quite a few walkers and in fact, we had the 2nd highest attendance on the South Coast. This year the weather was good to us and apart from Chris and Sharon deciding to make-up their own route everything went fine with the walk taking around 2 hours at a nice amble.
The Group had one trip to the big Island this year, Lacock Abbey and no that's not the name of one of a local accommodating female! On the way up we had a Mexican Stand-off with one of the locals down a very narrow lane but we managed to enjoy most of the outdoor activities avoiding the rain.
Finishing the statistics over 1300 images submitted this year with still some we've not yet seen from the previous year. Congratulations again to everyone, for the high standard of work and I'm sure that there will be better things to come in the future.
There were 2 presentations this year, for the first Amanda asked me to present the award so that someone, fairly new to the group, won't lose their way in future on such a big Island: Congratulations go to Chris Waldron and we hope the Pooh Bear Compass will help.
Then to our annual presentation for the IWDIG photographer who has improved photographically and achieved a great deal over the last year. Following on from the tradition set last year the recipient will be awarded a voucher for 5 professional quality prints courtesy of Mike Thomas.
Congratulations Chris Cornforth (Mr PrimeDrive) for winning the IWDIG award this year.
Merry Christmas and a happy New Year to everyone, see you on January 6th 2016.