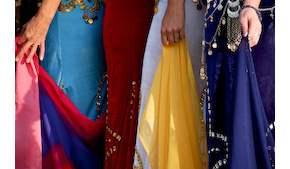 No TOP HAT but plenty of TALES…
was the order of the day or should we say evenings as over the last few weeks IWDIG photographers have been shooting publicity images for the Arabian Wights Belly Dancers with  Ballroom dancing partners Anna-Louise and Richard.
A very interesting if not intuitive time was had by all photographers who took the opportunity to take part in these recent photo shoots many having not experienced this style of photography previously.
The brief was simple images of the performers for their websites and promotional material.  This was the first time the IWDIG has been commissioned for a photo shoot of this nature and as such the locations
choosen for each shoot had to be empathic with Belly Dancing and Ballroom.
Down on the beach at Freshwater Bay proved a great location for the Arabian Wights Belly Dancers and luckily the weather held out. This shoot attracted a lot of spectactors, enjoying the summer evening in the bay, tested the photographer's skills in posing large groups and dealing with the very bright sunset that evening. Many of the photographers overcame the problem by the clever use of the steps, others aware of the difficulties in photographing the many changing faces decided to compose shots without revealing any identity but artistically developed images which portrayed the subject very well.
Was it the photographers or the scantily clad females that attracted the onlookers that evening, who knows?
Changing the location, but not the brief, the IWDIG photographers next turned their attention toward Anna-Louise and Richard.  Landguard Manor was chosen for these two shoots as it provided a stylish setting, both inside and out, that perfectly matched and enhanced the costumes and style of Ballroom. The IWDIG would like to give a special thanks to Landguard Manor for their hospitality.
Once again most of the photographers were new to this type of challenge capturing the movement and feel of the dancers. This task was made much easier by the professionalism of Anna-Louise and Richard. A variety of stunning dresses in fabulous colours contasting with the dark suit and white bowtie, the ballroom poses and movements and the location made for two very enjoyable photoshoots.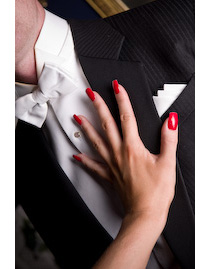 The photographers also were asked to look for a 'different angle': shooting high and low; using strobe flash; big close-ups and soft focus with limited DOF on some of these images, something out of the ordinary and we believe that they have achieved it, still judge for yourself when you take a look.
Thanks to the photographers who took part, all of the dancers and a special message from the 'Lady in Red':
Thanks for Tuesday, it was brilliant again!
Love the pics. The red ones especially.
Please send our thanks on to everyone.
Kind Regards Anna
You may view the photographs from these shoots in the IWDIG PORTFOLIOS. We hope you enjoy them.
© IWDIG 2008