Aug 21 2011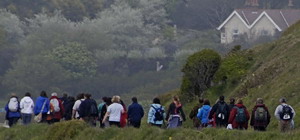 Walking our way through the photographic world of the Isle of Wight, we discovered a gap in the Isle of Wight Walking Festival, which has inspired us to launch our own Photo Walks across the Island.
The Island is one of the best area's in the UK for walking and whilst there is something for all ages and  abilities, one thing we found lacking in the Isle of Wight Walking Festival Autumn Weekend programme was a walk specifically aimed at photographers.
Open to anyone who wants  to get a little more from their photography 'Photo Walks' are not about competition but a  good way on getting other like minded people together to take photographs.
As Isle of Wight Digital Imaging Group (IWDIG) members are   already participating in the unique Worldwide Photo Walk on 1st October 2011,  we could fit in another photo walk (weather permitting) between 21st-24th October.
The IWDIG is not trying to re invent the wheel, but the idea of unique yet specific 'photo walks' on the  Island for anyone to participate in is really quite exciting.
In an open themed photo walk, we do not have to focus on chocolate box, landscapes, wildlife, flora or  fauna, but can shoot if we so wish to a mystery brief courtesy of Photo Walk Leader Gary Early.
The initial aim along each 2 hour journey; not only will we get to meet some new photographers, pick up  some camera tips and ideas of things to capture, but the exercise may also help with fitness levels and  contribute to our individual growth in photography.
The title being Photo Walk naturally implies photographers, who no doubt will be packing equipment. Our aim  to be inclusive, we will endeavour to ensure less able bodied access is factored into any photo walk we  organise.
More details of IWDIG Photo Walks coming soon…
For details on the Isle of Wight Walking Festival visit www.isleofwightwalkingfestival.co.uk website.
Comments Off